Down The TBR Hole is a weekly meme that revolves around cleansing your TBR of all those books you're never going to read and sort through it all to know what's actually on there. It was created by Lost in A Story and I found out about it from SepiaReads.
The idea is that your Goodreads Want To Read shelf is probably enormous. I definitely have a problem with just adding a bunch of books to it and never thinking about them again. So, the plan is to go through on a regular basis and choose some books. Figure out if they're going to stay or go.
Maybe I'll channel my Marie Kondo lessons and see if these books spark joy before keeping them or going.
Currently, my Want To Read shelf is 911 books, so pray for me, please.
It works like this:
Go to your goodreads to-read shelf.
Order on ascending date added.
Take the first 5 (or 10 if you're feeling adventurous) books.
Of course, if you do this weekly, you start where you left off the last time.
Read the synopses of the books
Decide: keep it or should it go?
---
The Catcher in the Rye

by J.D. Salinger
Genres: Classics, Fiction, young adult



Buy it on Amazon, Buy it on Indigo

The hero-narrator of The Catcher in the Rye is an ancient child of sixteen, a native New Yorker named Holden Caulfield. Through circumstances that tend to preclude adult, secondhand description, he leaves his prep school in Pennsylvania and goes underground in New York City for three days. The boy himself is at once too simple and too complex for us to make any final comment about him or his story. Perhaps the safest thing we can say about Holden is that he was born in the world not just strongly attracted to beauty but, almost, hopelessly impaled on it. There are many voices in this novel: children's voices, adult voices, underground voices-but Holden's voice is the most eloquent of all. Transcending his own vernacular, yet remaining marvelously faithful to it, he issues a perfectly articulated cry of mixed pain and pleasure. However, like most lovers and clowns and poets of the higher orders, he keeps most of the pain to, and for, himself. The pleasure he gives away, or sets aside, with all his heart. It is there for the reader who can handle it to keep.
Verdict: Discard.
I originally put it on my list because I felt like it was an important, impactful work, but the more I think about it, the less interested I am in Holden Caulfield's teenage angst. I'm realizing I only have so much time to read and I don't want to waste it.
Of Mice and Men

by John Steinbeck
Genres: Classics



Buy it on Amazon, Buy it on Indigo

The compelling story of two outsiders striving to find their place in an unforgiving world. Drifters in search of work, George and his simple-minded friend Lennie have nothing in the world except each other and a dream--a dream that one day they will have some land of their own. Eventually they find work on a ranch in California's Salinas Valley, but their hopes are doomed as Lennie, struggling against extreme cruelty, misunderstanding and feelings of jealousy, becomes a victim of his own strength. Tackling universal themes such as the friendship of a shared vision, and giving voice to America's lonely and dispossessed, Of Mice and Men has proved one of Steinbeck's most popular works, achieving success as a novel, a Broadway play and three acclaimed films.
Verdict: Keep.
Every time I read this synopsis, I find my attention is caught again. It's a shorter book, so I might try to squeeze it in for March.
Frankenstein

by Mary Wollstonecraft Shelley, Percy Bysshe Shelley, Maurice Hindle
Genres: Classics, Fiction, Horror, Science Fiction



Buy it on Amazon, Buy it on Indigo

Mary Shelley began writing Frankenstein when she was only eighteen. At once a Gothic thriller, a passionate romance, and a cautionary tale about the dangers of science, Frankenstein tells the story of committed science student Victor Frankenstein. Obsessed with discovering the cause of generation and life and bestowing animation upon lifeless matter, Frankenstein assembles a human being from stolen body parts but; upon bringing it to life, he recoils in horror at the creature's hideousness. Tormented by isolation and loneliness, the once-innocent creature turns to evil and unleashes a campaign of murderous revenge against his creator, Frankenstein.
Verdict: Keep.
I didn't even need to think about this one. It's been on my list for forever and I am going to read it. This year. This is the year, I promise.
Les Misérables

by Victor Hugo
Genres: Classics, Fiction



Buy it on Amazon, Buy it on Indigo

Introducing one of the most famous characters in literature, Jean Valjean—the noble peasant imprisoned for stealing a loaf of bread—Les Misérables ranks among the greatest novels of all time. In it, Victor Hugo takes readers deep into the Parisian underworld, immerses them in a battle between good and evil, and carries them to the barricades during the uprising of 1832 with a breathtaking realism that is unsurpassed in modern prose. Within his dramatic story are themes that capture the intellect and the emotions: crime and punishment, the relentless persecution of Valjean by Inspector Javert, the desperation of the prostitute Fantine, the amorality of the rogue Thénardier, and the universal desire to escape the prisons of our own minds. Les Misérables gave Victor Hugo a canvas upon which he portrayed his criticism of the French political and judicial systems, but the portrait that resulted is larger than life, epic in scope—an extravagant spectacle that dazzles the senses even as it touches the heart.
Verdict: Discard.
I have started Les Miserables like three or four times now and I get about halfway through before calling it quits. I thought that it was just my problem with the classics, but I breezed through the Count of Monte Cristo. I can't keep circling back around for now, but maybe one day.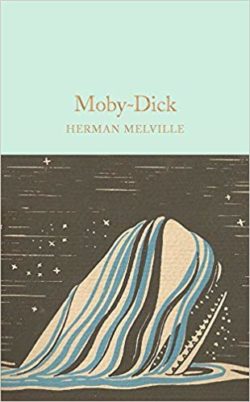 Moby-Dick, or, the Whale

by Herman Melville
Genres: Classics, Fiction, Adventure



Buy it on Amazon, Buy it on Indigo

"It is the horrible texture of a fabric that should be woven of ships' cables and hawsers. A Polar wind blows through it, and birds of prey hover over it."

So Melville wrote of his masterpiece, one of the greatest works of imagination in literary history. In part, Moby-Dick is the story of an eerily compelling madman pursuing an unholy war against a creature as vast and dangerous and unknowable as the sea itself. But more than just a novel of adventure, more than an encyclopaedia of whaling lore and legend, the book can be seen as part of its author's lifelong meditation on America. Written with wonderfully redemptive humour, Moby-Dick is also a profound inquiry into character, faith, and the nature of perception.
Verdict: Keep.
I have been fascinated with this book for forever and I'm still determined to read it. Just like with Mice and Men, the synopsis gets me every time.