Updated April 8th, 2021.
Living that book life isn't always easy, especially when it comes to getting a book box. I am a book subscription box addict. As much as I love books, the idea of getting a surprise book plus some extra bookish goods just has me living. It's like a Kinder Surprise except I'm not allergic to them.
Unfortunately for me, it can be hard to get certain boxes if you're Canadian. Book of the Month for example, is only open to U.S. Residents only. Other book services end up charging you nearly the same amount for shipping as you paid for the box. This is a hard pill to swallow since the prices tend to be in USD.
Even Canadian book boxes can be pricey. I'm dying to try Sweetreads, for example, but at $80 CAD per box (before shipping)? It's hard to justify.
I've written about my favourite book boxes regardless of budget before, but this is for people who are looking for value.
So below are some boxes that won't break your bank and that will allow you to get both pretty bookish thing
3. Owl crate
So there's no way to sugar coat this. I love Owl Crate, but it's only worth the money if the Canadian dollar is strong. The crate is chock full of goodies, but will end up costing about $50 CAD per box when the dollar is strong. When it's weak? It will cost up to $65 – $70 per box.
The exchange rate is the only reason I stopped subscribing to Owl Crate. We're currently in the midst of Covid-19, and the dollar has gone to crap. It's more than I'm willing to pay right now.
That said, I wouldn't have put it on this list if it wasn't exceptional. Every box comes with an enamel pin, a hardcover book, and a ton of bookish goods. I've gotten amazing things out of this crate including some of my favourite jewelry, a bookish beach towel, scarves, amazing cups and mugs… The list goes on.
I love their crates and they've been the highlight of my month, hands down. The merchandise isn't always up my alley, but it's always lovely and of great quality.
Even if you don't subscribe to Owl Crate regularly, it's still worth it to join their newsletter as sometimes they'll have limited edition crates for big upcoming releases (like the one pictured above). They sell out quick, so keep an eye out for them.
2. Blind Date with Obvious State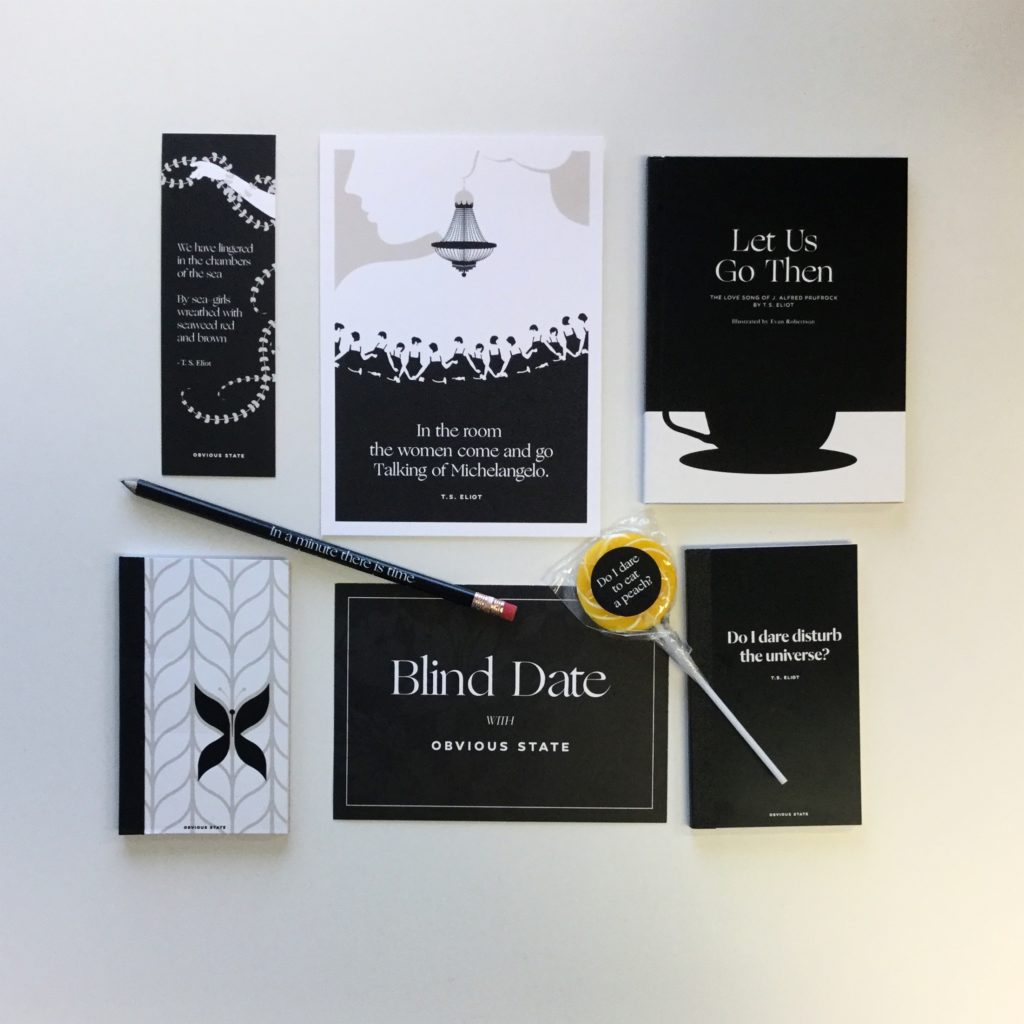 Obvious State is a purveyor of absolutely gorgeous bookish goods and they have these amazing stylized quotes, mugs, and tote bags in their shop so when the chance came to order a Blind Date with them, I couldn't click buy fast enough. Blind Date is what it sounds like, they send you a package every month or so with beautifully stylized bookish goods including lip balm, candles, candy, note books and the like. On top of that you get a small poetry book that has a visual interpretation of a classic poem each month for $15 USD.
As it says on their website, it's "dinner and drinks on a coffee and cake budget. Not bad."
This is the first and only poetry box I've seen around and I love it. I don't read enough poetry and this box is helping me get back in there. The shipping isn't too bad. It ends up being $25 or so, but I've gotten pretty candles and a book and a lot of things, so I never feel like I'm not getting my money's worth. For the last box, I even got a full size art print that would normally sell for over $20 USD on their site.
It's beautiful and the books are designed beautifully.
Go on a Blind Date with Obvious State here!
1. Indigo Book Boxes
These have been so poorly advertised that chances are you didn't even know that Indigo had subscription book boxes. Most Canadians will recognize Indigo. It's Canada's largest book store chain and for some reason, they've never shouted about their book boxes. I stumbled onto their book boxes by accident while searching for a different book once.
The pros of an Indigo book box:
You're getting a book box for a price that's only a little bit more than you'd pay for a hardcover book. All prices are in Canadian dollars so you know exactly what it's going to cost you.
Shipping is guaranteed to be free if you ship it to a store to pick it up rather than to your home, but will often be free regardless.
They tell you exactly what's in the book box so you can judge for yourself if it's worth your money or not. You know which book you're getting, which gifts, everything.
It's not a monthly subscription, so you can stop whenever you want.
Old boxes are on sale on their website at discounted prices!
If you're unhappy with the box, Indigo has a generous return policy.
The cons of an Indigo book box:
There's no surprise. Like I said, they tell you what's in the box so unless you're carefully not looking while you check out? You know everything.
They're still finding their feet in terms of bookish goodies, so it can be hit or miss whether it's to your taste. They tend to lean heavily on tea and stationary.
New boxes aren't advertised well. You'll have to check and see when there's a new box.
I've bought this box multiple times and always loved it. If you're unsure, check out their listings. There are often older boxes that are on sale for discounts, so you can try it at a lower price.
This all goes to say that if you're in America, you have a LOT more choices for subscription book boxes. You can click here to find book subscription boxes for kids to adults and in all genres.
Did I miss your favourite subscription box? Is there one that I should try next? Today's Featured Image is by @infinitelynovel on Instagram please check them out!
Let me know in the comments below~.
---
Do you have any suggestions or are there things you think I've missed? Leave a comment below. Or if you want more posts like this? Sign up today and never miss a post!
---