Down The TBR Hole is a weekly meme that revolves around cleansing your TBR of all those books you're never going to read and sort through it all to know what's actually on there. It was created by Lost in A Story and I found out about it from SepiaReads.
Basically, you're just going through your TBR and deciding whether to discard or keep. If you want a more detailed explanation of Down the TBR Hole, you can find it here.
Currently, my Want To Read shelf is 901 books and I'm cutting it down week by week. I know it jumped a bit since my last TBR, but that's because I'm also getting rid of doubles on my list as I go.
The books at this point on the list were added to my TBR in 2009 which is ten years ago so… wow. We're doing this. Let's go.
---
The Shining (The Shining, #1)

by Stephen King
Genres: Horror, Fiction, Thriller



Buy it on Amazon, Buy it on Indigo

Jack Torrance's new job at the Overlook Hotel is the perfect chance for a fresh start. As the off-season caretaker at the atmospheric old hotel, he'll have plenty of time to spend reconnecting with his family and working on his writing. But as the harsh winter weather sets in, the idyllic location feels ever more remote...and more sinister. And the only one to notice the strange and terrible forces gathering around the Overlook is Danny Torrance, a uniquely gifted five-year-old.
Verdict: Discard.
I don't know what it is, but I'm just not as interested in this work any more. There are other horror novels I want to read and even other novels by Stephen King that I want to read more. Maybe it's because I've heard about this and I know what happens in it. Maybe one day, but not for now.
The Time Traveler's Wife

by Audrey Niffenegger



Buy it on Amazon, Buy it on Indigo

Audrey Niffenegger's innovative debut, The Time Traveler's Wife, is the story of Clare, a beautiful art student, and Henry, an adventuresome librarian, who have known each other since Clare was six and Henry was thirty-six, and were married when Clare was twenty-three and Henry thirty-one. Impossible but true, because Henry is one of the first people diagnosed with Chrono-Displacement Disorder: periodically his genetic clock resets and he finds himself misplaced in time, pulled to moments of emotional gravity in his life, past and future. His disappearances are spontaneous, his experiences unpredictable, alternately harrowing and amusing.
Verdict: Discard.
I've tried a few times since everyone was recommending it to me. I don't think it's the novel for me. Maybe I'll try the movie and see how I like that before giving it another go or not.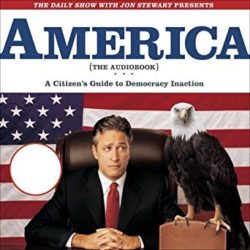 America (The Book): A Citizen's Guide to Democracy Inaction

by Jon Stewart



Buy it on Amazon, Buy it on Indigo

Jon Stewart, host of the Emmy and Peabody Award-winning The Daily Show, and his coterie of patriots, deliver a hilarious look at American government.

American-style democracy is the world's most beloved form of government, which explains why so many other nations are eager for us to impose it on them. But what is American democracy? In America (The Book), Jon Stewart and The Daily Show writing staff offer their insights into our unique system of government, dissecting its institutions, explaining its history and processes, and exploring the reasons why concepts like one man, one vote, government by the people, and every vote counts have become such popular urban myths. Topics include: Ancient Rome: The First Republicans; The Founding Fathers: Young, Gifted, and White; The Media: Can it Be Stopped?; and more!
Verdict: Discard.
Beyond me being absolutely fatigued by the thought of American politics, I don't know if this even could be close to relevant in a post-President Trump world. I don't want to look at political things on my off time right now, I've lost the ability to find the humour in them.
Sense and Sensibility

by Jane Austen



Buy it on Amazon, Buy it on Indigo

Unfairly deprived of their family inheritance by the grasping Mrs John Dashwood and her husband, Elinor and Marianne Dashwood and their mother find themselves in greatly reduced circumstances.

Compelled to leave Norland in Sussex for Barton Cottage in Devonshire, the two sisters are soon accepted into their new society. Marianne, whose sweet radiance and open nature charm the roguish John Willoughby, is soon deeply in love. Elinor, whose disposition is more cautious and considered, who carefully conceals her emotions, is suffering the loss of Edward Ferrars whom she has left behind.

Despite their very different personalities, both sisters experience great sorrows in their affairs of the heart: Marianne demonstrably wretched and Elinor allowing no one to see her private heartache. It is, however, the qualities common to them both - discernment, constancy and integrity in the face of the fecklessness of others - that allow them entry into a new life of peace and contentment.
Verdict: Keep.
I really want to read all of Jane Austen's books, even the ones that may not be as beloved. I think I owe it to her for pre-judging Pride and Prejudice and then having to swallow my words. I too have been converted to the cult of Darcy.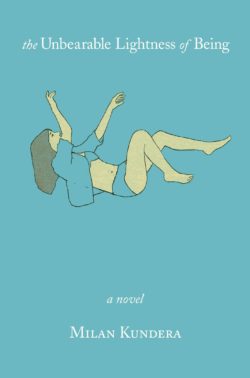 The Unbearable Lightness of Being

by Milan Kundera



Buy it on Amazon, Buy it on Indigo

In The Unbearable Lightness of Being, Milan Kundera tells the story of a young woman in love with a man torn between his love for her and his incorrigible womanizing and one of his mistresses and her humbly faithful lover. This magnificent novel juxtaposes geographically distant places, brilliant and playful reflections, and a variety of styles, to take its place as perhaps the major achievement of one of the world's truly great writers.
Verdict: Keep.
I can't take this one off. I've read a chapter or so of it and it stuck in my mind, I just can't get in the right mindset to start it again. But I also don't want to take it off my list. So it can stay for now.
What do you guys think? Are there some here that you'd keep? Or maybe get rid of? I feel like a lot of the changes being made to my list aren't because the books aren't good, but because I've changed as a person since I've added them.