Anyone who's been my friend through this long and turbulent last couple years knows that fountain pens are my new obsession. I've always loved bookish things and stationary, but always thought that fountain pens were for calligraphy. Boy, was I wrong. Now I use them every day and have a beautiful collection of inks that I use as well. Picking up and writing with these pens is an absolute joy. I used to think that having fountain pens would break the bank for me, but I was wrong on that too. There are plenty of affordable options for both pens and inks. You can spend as much or as little as you want.
Trust me, I've been eyeing some of those upscale Sailor Pens and I would have killed for a Montblanc Little Prince pen, but I've found other pens that I love just as much.
But where can you buy fountain pens and inks in Canada? They're not mainstream enough that you can walk into just any store.
Actually… You can find Lamy pens in Indigo right now or if you want something less than $10, Indigo is also has Platinum Preppys in stock.
If you want to keep things simple, I've made a list of the 5 best budget fountain pens at either Indigo or Amazon. Or if you're right at the beginning of getting started, check out my 5 simple steps for getting started with fountain pens.
But! I've found that the best inks and pens are often outside of places like Indigo. The smaller shops that have dedicated themselves to stationary and pens are a great place to look. All of the places in this list are places I have tried ordering from online. My experiences are my own and you may get different mileage, but I hope that it will be helpful for you! Without further ado, here are the best onlines stores for fountain pens in Canada.
As always, please note that some of the links below are affiliate links. If you're interested in buying the books, please consider clicking on them! They help keep the lights on.
WonderPens.ca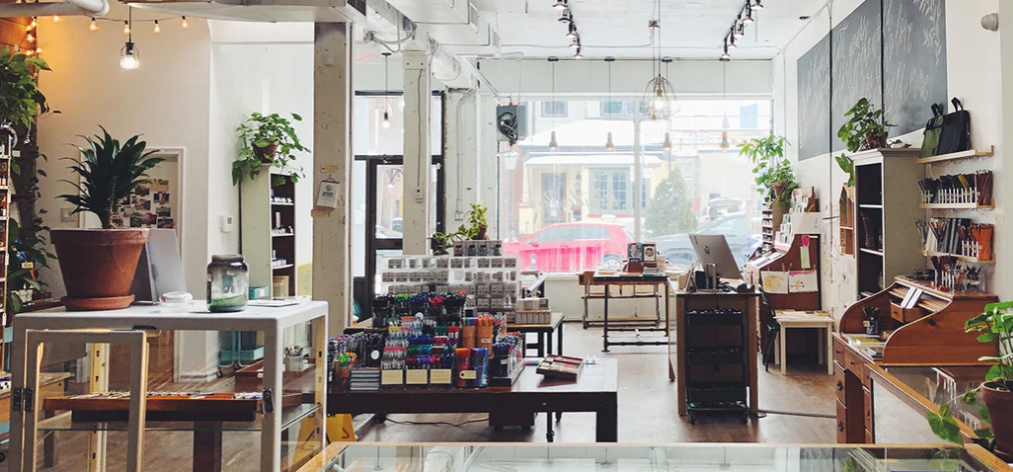 Absolutely great from start to finish. I'm not the biggest fan of Wonderpens' website, but the prices are fair and you can choose to pick up from their Toronto store or have your purchase shipped to you. They're big proponents of finding the best writing materials and learning to love writing. If you can go to the store, I recommend it since they have a display which will let you test pens and how they write before you buy them. But if you're shopping online, you'll find the process painless.
There is a wide variety of inks and you can get Japanese inks and accessories here for pretty good prices. You need to spend $125 for free shipping, but since it's shipping within Canada, it's around $8 for shipping otherwise. All in all, pretty reasonable. Quality is great, customer service is great. It's always the place I check first for fountain pens and inks.
Pros: Great prices, great variety, great customer service, inexpensive shipping.
Cons: Website is a bit clunky, they don't ship ink in the winter.
Check out their products at Wonderpens.ca.
Laywines.com
I've loved the few things that I've gotten from Laywines and their customer service is great. My big problem with them is the lack of selection. While other shops will have a large variety of pens and inks, Laywines tends to stick with tried and true brands. While they have a narrower scope, they tend to have more stock than some of the other places on this list and if they've got this brand on their site, you generally know that you're going to have a good experience. One of my favourite pens that I own (the Onigiri from Before Breakfast) was from Laywines and it is both my most expensive pen, but one that I love to pieces. Laywines is a little more expensive than some of its competitors, but always a solid choice if you're looking for quality. Shipping is free if you spend $75 on one order.
Pros: High quality pens, great customer service, free shipping at a lower price
Cons: They don't have as much variety of brands, it's a little more expensive.
Check out their products at Laywines.com.
PhidonPens.com
Phidon Pens is a place I've ordered from a few times and the only issue I've had with them is sometimes the stock on their website isn't up to date. This means that I've wanted a pen, but it's actually out of stock in the colour I want. That said, I have had some pretty great experiences with Phidon Pens. They've got a large selection with brands that aren't available on Wonder Pens and is an excellent place to buy things inks from Colorverse. . Shipping is free if you spend $150 on one order or $12.95 otherwise.
Pros: Good for inks like Colorverse, the website is easy to navigate.
Cons: The website can be finicky with stock, higher shipping prices than other stores.
Check out their products at PhidonPens.com.
Cultpens.com
In love with Diamine inks? Buy from here. Don't buy from anywhere else, you'll never find it cheaper. Cultpens is amazing for inks and I will always check it out to see what they've got. They stock Colorverse and also brands that are harder to find in Canada like Troublemaker Inks or Vinta Inks. They are where I can find smaller more indie international brands at a great price. That said, Diamine is where it's the cheapest. Because Diamine is a UK brand and Cultpens is located in the UK, they're able to buy Diamine ink at rock bottom prices and they pass those savings on to you. Shipping to Canada is free on orders $160+.
Pros: Their ink selection and prices are unmatched, they stock indie ink brands, there are no surprise import fees
Cons: Their website is a little weird to navigate, higher boundary for free shipping
Check out their products at CultPens.com.
FerrisWheelPress.ca
Beautiful inks made right here in Canada! Ferris Wheel Press is unmatched when it comes to how beautiful their packaging is. I'm obsessed with it in the best way possible. When it comes to them launching new inks, I'm right there. 100%. Their fountain pens and stationary are more hit or miss for me, but the inks are gorgeous. My favourite right now is their collaboration with Ginza Tsutaya and their Fashion District inspired inks. They have free shipping in Canada over $99 which is a little high, but I recommend at least subscribing to their newsletter so you get updates on what they're releasing. If you decide to buy from somewhere else later, then that's fine too.
Pros: Their inks are gorgeous, their packaging is top notch.
Cons: Their stationary is expensive and their fountain pens are just okay for the price.
Check out their products at FerrisWheelPress.ca.
YosekaStationary.com
This is a site where the online shopping experience is a little off-putting, but I've found some gems for inks in Yoseka. They tend to have a good selection of inks from Asian countries like Taiwan or Japan. Their prices are fair considering that you'll be shopping in USD and their shipping is reasonable. You also won't have surprise customs charges at the border. Take a look and see if you can find something unique! Just keep in mind that you can't filter what's out of stock. The fact that I dislike their website as much as I do and am still recommending them should say a lot.
Pros: Their ink selection is great and prices are fair.
Cons: Their website is more than a little clunky, you have to shop in USD.
Check out their products at YosekaStationary.com.
ShigureInks.com
Shigure Inks is in the same boat as Yoseka. They have inks from brands that can be harder to find in Canada like Lennon Tool Bar and Ink Institute which is mostly what I order from them. However, the website experience… isn't… the best. That said, their prices are fair and their shipping is incredibly reasonable considering other retailers in the US. When it comes to shopping in US, I always check Shigure first. Shipping to Canada is free on orders $40+.
Pros: Their threshold for shipping is very low for international and they stock indie ink brands. There are no surprise import fees
Cons: Their website is a little weird to navigate, they have a limited amount of brands available.
Check out their products at ShigureInks.com.
GouletPens.com
Goulet Pens is the first place I purchased anything fountain pen related from. They are top notch when it comes to having a great selection, they've got a series of youtube videos for beginners, and their website is the best for online shopping. There's no comparison. You can see all the brands you want easily, you can filter by what's out of stock and price range. Their website is a joy to shop on.
That said, I tend to go with Canadian websites first if I can manage it since they do not have free shipping to Canada. Their shipping isn't overly expensive, but if you can find what you're looking for from a Canadian store first it's bound to be cheaper. That said, I highly recommend subscribing to their newsletters. They've got great suggestions and variety in what's available. Their samples of inks are incredible for trying a lot of inks at a very low price.
Pros: They've got the best website, a great variety of pens and inks, and no hidden import fees.
Cons: There isn't free shipping.
Check out their products at GouletPens.com.
VannessI1938.com
Vanness is great. Their customer service is responsive and they've got indie ink brands I've been salivating over for great prices. Check out their Vinta exclusive Kislap if you want to see what I mean. That's why it breaks my heart that I got hit by steep import fees the two times I ordered from them. Keep in mind that it's not Vanness that is setting these fees and the actual taxes on the packages themselves were pretty reasonable.
It ended up being about $8 in tax. The problem was that the carrier that was carrying it charged a fee for managing those taxes and that fee was $28. Suddenly I had a fee that was almost as much as the original order. That said, the owner said they're working on it and I had such a great experience otherwise that I highly recommend Vanness if you're in the States (and hopefully one day for Canada too).
Pros: Their ink selection is large, they have indie ink brands, and beautiful exclusives.
Cons: Their website is a little weird to navigate, the two times I ordered from them I got import fees.
Check out their products at Vanness1938.com.
GalenLeather.com
So, I can't really recommend this shop to you in good faith. I ordered from them because they had Troublemaker Inks that I was looking for all over, but now you can find it elsewhere. I got hit with the highest import charges I've ever seen from fountain pen inks. You can find Galen Leather products at WonderPens and other places, so I'd start there. As for the inks they have, I'd check out CultPens or Goulet Pens first. If you still decide to order from here, shipping to Canada is free on orders $250+.
Pros: They have very high quality leather products.
Cons: Their website is a little weird to navigate, I got hit with really high import fees. You can buy them from other places.
Check out their products at GalenLeather.com.
---
Do you have any suggestions or are there things you think I've missed? Leave a comment below. Or if you want more posts like this? Sign up today and never miss a post!