Mother's Day is just around the corner and I've been wracking my brains for what could make a good gift. My mom is someone who is both very easy and hard to shop for. She'll love everything I buy her, but I want to buy her something amazing! On a budget… Finding budget Mother's Day gifts that are still nice was harder than I thought it would be, but here are the best ones that I could think of. Whether you're shopping for your mother or a grandmother or an aunt, there's something on this list to suit everyone's taste.
And if you end up buying a thing or two just for yourself? Shh, I won't tell. It happens to me all the time.
If your mom is big into stationary, I suggest you check out my post on budget fountain pens here! You're sure to find something she likes there or at this list of online fountain pen and stationary stores.
As always, please note that some of the links below are affiliate links. If you're interested in buying the books, please consider clicking on them! They help keep the lights on.
Get Her a Great Bestseller from Indigo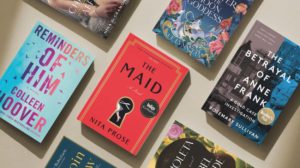 It goes without saying that book lovers will love getting books. My mom always appreciates when I get her a highly rated bestseller. Indigo has an entire book section for finding bestsellers that are also trending in Canada, so I would suggest looking there first. If you're shopping on a budget, check out Indigo's 2 for $15 section. There's always some great beach reads available and I used to shop here a lot when I was down on my luck.
You can also check out the sale section on Indigo's website. While some places will only have cheap stuff on sale, Indigo has some great finds. Usually these are things that are almost sold out or maybe slightly out of season, but I've found great gifts here. If you're shopping in person, they almost always have a section for sale items in the store. Check around the back near the home sections or ask an associate for help.
Amazon also has its list of bestsellers that you can check out. Sometimes they have deeply discounted books, but just keep in mind that its list is affected by their kindle marketplace too.
Look at Indigo's 2 for $15 section or their sale section on their website for the best deals!
Let her read on the go with an Audible Membership
My mom is the type of person who loves to go on walks with her dog and keep active. She also has to take long drives in order to visit my grandmother. Audible is the perfect gift for people who want to listen to books or people whose eyes have trouble reading. My grandmother has cataracts and listens to more books than she reads these days. With an audible membership she'll get 1 credit for an audio book per month and access to plenty of free podcasts.
It's only $14.95/month and you can cancel anytime. So whether this is for you or a mother in your life, you can't go wrong with Audible.
Let her choose which books she wants with a Kindle Unlimited Membership
I know that not everyone is on the ebooks train, but I love ebooks. I really do. They're so simple and now that you can get a kindle app on your phone for free, there's really no reason to not give it a try. The kindle library has almost every book, but if your mom is a lover of romance, then Kindle Unlimited is a must. It has so many romance titles that you can get 100% free. For someone looking for budget Mother's Day gifts, this is a no brainer.
If your mom has a smartphone or an iPad, then it's as easy as downloading an app and signing into her Amazon account.
Get your mom a Kindle Unlimited Membership today for just $9.99/month. Depending on where you are in Canada, you'll get the first 2 months free.
Help your mom relax with handmade soaps
Before you point out to me that this isn't for bookworms, I love reading in the bath. Some of my favourite soaps are from Venus Moon Emporium. They're beautiful and you can get whatever type you're looking for. Want a bath bomb? Bubble scoops? Bar soap? They've got you covered.
The quality is top notch too. They add in essential oils that will leave your mom feeling incredible pampered as she takes a relaxing bath.
The best part? Delivery is cheap since it's a Canadian shop. And if you spend $35? It's free!
Check out Venus Moon Emporium for a heavenly bath experience.
Get the cutest bookmarks as a budget gift for your mom
You just can't go wrong with cute bookmarks. I have an entire collection of them that I switch through based on my mood. If your mom's anything like me, then Etsy is a gold mine. For budget mother's day gifts of all kinds, there's no comparison. There are so many great stores. Just sort by which ones have free delivery and you can order a bunch of bookmarks for cheap.
Some of my favourites are:
Treat your mom to a blind day with a book
I love Etsy for Bookish blind dates. The only problem is that they're usually expensive when you add the shipping in. But this is a Budget Mother's Day Gifts list, so I recommend searching for book blind dates and making sure that the shipping is free. Stores like Those Bookish Gifts have free shipping on their blind date books and the packaging is so cute, I can't recommend them highly enough.
You can find bookish blind dates with free shipping here.
Help your mom read books with a wooden reading assistant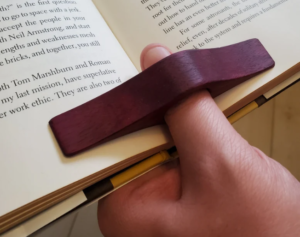 My mom's getting older. She'd kill me for saying this, but she's past 60 years old now and her hands aren't as strong as they used to be. Things like this wooden reading assistant can help people who are older or who have disabilities hold up books. Even without a disability, I find it easier to read while using the assistant and they're cheap! You can find them for $10 to $20 in a variety of shapes and sizes. I like a cleaner look, so I chose a wood one from Derek McCrone's store.
Get a wooden reading assistant here.
Help Your Mom with an E-reader $110 or $119
Sticking with the theme of making it easier for our moms who are aging to read, is an e-reader. I know this is a little expensive for a Budget Mother's Day Gifts list, but you can find deals on it. Indigo has a Kobo e-reader for $110 and Amazon has their Kindle e-readers for $119. The adjustable text and the way that the screen is developed to be easy on your eyes makes getting either of these e-readers a great move for a bookworm in your life.
If you don't want to shell out for an e-reader, then turn your phone into one! You can get a kindle app for free on both Android and iPhone. Unfortunately there's no reliable Kobo e-reader app on the market.
Get a Kobo e-reader here or a Kindle e-reader here.
Get a gift card and let your mom enjoy her shopping
My mom is a huge shopper, so giving her any excuse to go to the store is the greatest gift I could give. If I only end up getting her a gift card, I try to write a heartfelt message in her card. In the end, moms know what they want the best and you can get a $25 gift card so she can buy something she wants. Or, for fun, you can both go together and whatever she decides to get, you can pay for. If your mom is anything like mine, the best gift you can give her is some quality time.
Get an Amazon gift card here or an Indigo gift card here!
And whatever you decide, have a happy Mother's Day!
---
Do you have any suggestions or are there things you think I've missed? Leave a comment below. Or if you want more posts like this? Sign up today and never miss a post!