Updated: August 1, 2020
Witches are the monsters that are forgotten about when we talk about evil. Everyone remembers vampires, werewolves, and the like, but witches? They're not considered to be as frightening. Maybe it's because a witch isn't a demon, they're a human. They can be reasoned with more readily and understood. They're not the malevolent evil of a vampire, or the brutal violence of a werewolf.
This prompt was given by Kaleena from Reader Voracious for Blogoween. Please check out her blog.
I've spoken about horror monsters and adaptations before, but witches hold a soft spot in my heart.
So in no particular order, here we go!
Harry Potter and the Philosopher's Stone
by J. K. Rowling
[June 26th, 1997]
The Pitch: A young boy finds out that he's a wizard when invited to a mysterious magic school.
A big shout out to Miss Hermione Granger. Although my favourite in the series is the third book (Prizoner of Azkaban), there's no denying that the first book in the Harry Potter series is incredible. The world of wizardry is bright and vibrant. After all, Hogwarts is iconic for a reason. We all wanted to go there and become witches and wizards. In fact, the only real downside is that most of the spells they were learning seemed to have any value.
★★★★☆
4.47 out of 5 on Goodreads
Amazon | Indigo | BooksAMillion
---
The Witches
by Roald Dahl, Quentin Blake (Illustrator)
[October 27th, 1983]
The Pitch: A young boy has a run in with real witches and has to save all the children in the world.
Despite its light-hearted tone, it really is horrific. There are witches who live out in the real world and the most important job that they have is to kill children. That's right, they're coming for you and you'll never know because they look like normal people.
The moral of this entire story is to not take presents from strangers or to trust them, but wow. The cruel ways they describe killing children is gruesome for any child. And why do they want to kill the children?
Because children smell to them. In fact, the cleaner you are, the more you smell.
So don't be afraid to get dirty, kids. It might save your life.
★★★★☆
4.18 out of 5 on Goodreads
Amazon | Indigo | BooksAMillion
---
A Nameless Witch
by A. Lee Martinez
[May 1st, 2007]
The Pitch: A tale of vengeance, true love, and cannibalism.
Martinez works to subvert the classic ideas of a witch while at the same time maintaining the facade of them. The main character, our nameless witch, is beautiful. But witches are meant to be ugly, so she does her best to hide her charms.
She's meant to have a demon with her and that demon takes the form of a very foul-mouthed goose. And witches certainly aren't supposed to go on a quest to try and save the world. But she has to do something. She lives in this world too.
The world is bitter, but all the characters we meet are charming. It's the first time I can think of where I was actively rooting for a character who I'd never learned the name of.
★★★★☆
3.88 out of 5 on Goodreads
---
Akata Witch
by Nnedi Okorafor
[April 14th, 2011]
The Pitch: A magical apprenticeship in a richly developed Fantasy Nigeria.
Sunny is a teenager when she realizes that she is a witch and has to learn about this new world. It's a world where money appears from thin air to reward knowledge and it's the smartest people in the world who run it. Basically, it's a world where Hermione would feel right at home.
Where Harry Potter is chaste and despite the dangers of its world, it's a sanitized adventure. It's kid friendly. Akata Witch is definitely for teens and set away from traditional European tropes. Instead, it's in a whole new world that we couldn't even dream of.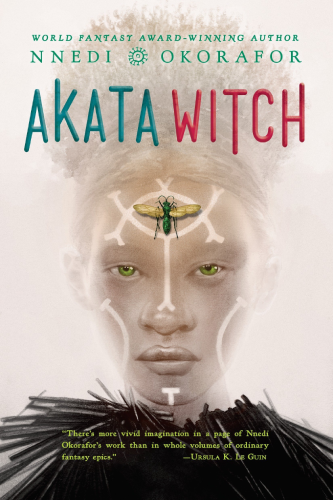 ★★★★☆
4.06 out of 5 on Goodreads
Amazon | Indigo | BooksAMillion
---
Howl's Moving Castle
by Diana Wynne Jones
[April, 2001]
The Pitch: A young woman is put under a magic spell which turns her into a old lady and needs to find a magician to help her break it.
Howl's Moving Castle exists within a vibrant new world of magic and witchcraft. It's a world where the witches and wizards are emotional, less careful with their powers. They have all the power in the world and still, they're petty. Their humanity is amplified by their powers rather than reduced.
It truly is a world where anything seems possible. While Harry Potter is densely populated enough to have strict rules and laws, that doesn't exist here. Witches and Wizards are powerful beings, able to do what they wish.
The restrictions on them are slim and that helps make for a more fantastical world.
★★★★☆
4.28 out of 5 on Goodreads
Amazon | Indigo | BooksAMillion
---
Is there a book about witches that I missed? Do you have one that you think I should read? Let me know in the comments below.
Do you have any suggestions or are there things you think I've missed? Leave a comment below. Or if you want more posts like this? Sign up today and never miss a post!
---