There are a lot of perks to being Canadian, but shipping costs aren't one of them. I've spoken about shipping costs and book costs in general before, but the TLDR of it is that it's basically very expensive. If you're on a budget and want to give yourself a little treat, your options are limited. But now? They're a little less limited. It's time to check out Life's Library Bookclub.
It's a hidden little gem that should be blowing up, but thanks to limiting its membership and only relying on word of mouth, it's relatively unknown in the bookish space.
Life's Library Bookclub is the book subscription box by John Green and Rosianna Halse Rojas. They go out of their way to pick books that you may not have heard of and don't stick to one genre. Sometimes it's historical fiction, other times it's poetry, nonfiction, literary fiction, they've done almost everything. I love getting to read books that are normally outside my wheelhouse and are vetted by people who love the heck out of reading..
It's very John Green Centric and at the same time it's not at all. If you participate in the discussions and listen to the podcast, it's heavily John Green centric, but you can also enjoy it without being a fan of his. I'm not a huge John Green fan and there are times I completely forget it's his club.
Just know that this isn't a monthly bookclub. You'll get a literary care package every six weeks for as long as you're subscribed.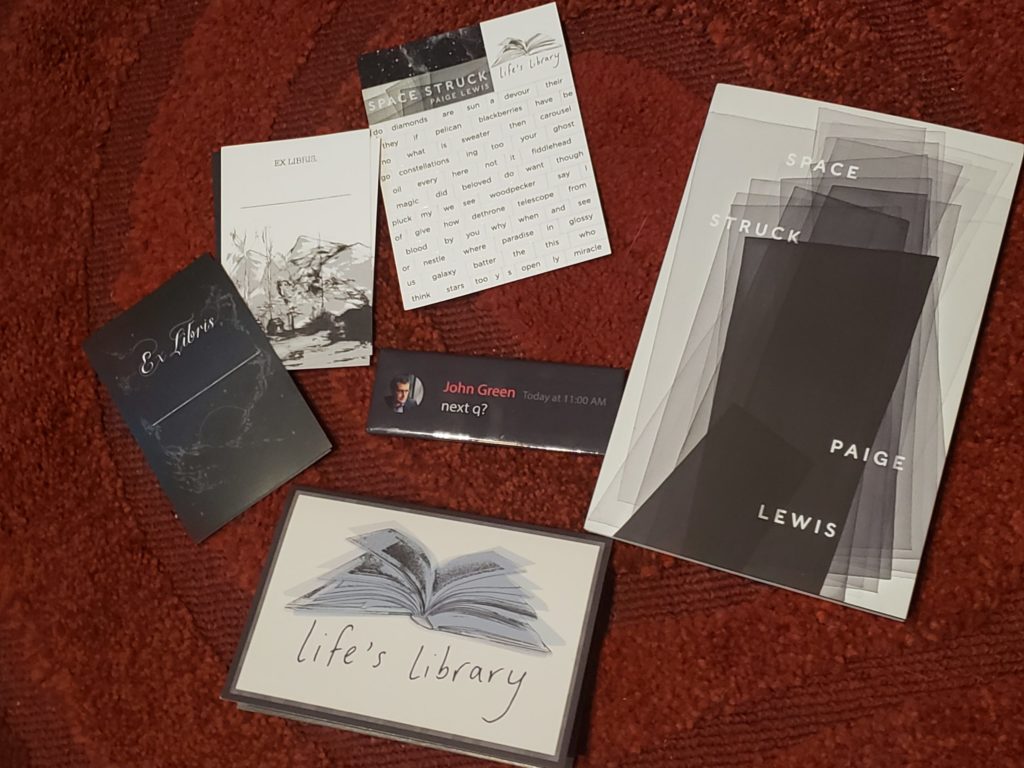 Physical Goods
The physical extras are cute and simple. There are always bookplate stickers every month of various designs. They're always adorable and always worth looking at.
Usually there's at least one other extra, but there can be more than that. Mini colouring books, pins, poetry magnets have all been included.
They get a little more creative with it than some of the other boxes. One of the problems I eventually found myself running into with Owl Crate was that I was getting too much of the same goods. I have four Harry Potter mugs, for example.
Where other book kits might give us a felt bookmark already made, Life's Library went out of the way to give us an activity. We were sent the felt and the thread along with instructions to build our own bookmarks.
Digital Goods
The digital goods are always interesting to me. Every single book will come with a reading pacing guide, a digital letter, and a podcast from John and Rosianna. There are discussions held in the discord which are well organized and you can interact with both John and Rosianna more than you can with other curators of boxes.
They put a lot of effort into their community and making sure that you feel like you're welcome.
There are also digital goods that vary from month to month. There are also beautiful videos, printable graphics, dice games, and even a small video game where you're taking care of a digital orange and watering it while it contemplates the universe.
Pricing
Pricing with shipping is $25 USD which comes to ~$33 CAD.
Comparing pricing of the last three books at Indigo:
Space Struck by Paige Lewis $23.95 (tax not included)
Faces in the Crowd by Valeria Luiselli $25.50 (tax not included)
On Immunity by Eula Biss $18.50 (tax not included)
If you compare the pricing of almost any other book box, they don't hold up. By keeping things simple and because they're connected to the massive shipping operations of DFTBA, they're able to keep shipping costs low.
The only book box that even comes close is the Indigo Book Box which you can get online.
Should you join the Life's Library Bookclub?
PROS
CONS
– Can be entirely digital if you want for less money.
– Thoughtfully curated book club that's more focused on the books than the goods.
– Pricing and shipping is equal to that of Indigo's Book Club.
– Good customer service
– If you're looking for one genre, this one will skip around.
– It doesn't have the over the top goods of other crates if that's what you're looking for.
– Shipping can take a while, particularly these days.
– Registrations for the book club are only open sporadically.
I can't recommend Life's Library Bookclub enough. It's a simple little bookclub, but the books are great and I love how much thought is put into the little extras. It's one of the few subscriptions that I still have and while the highs aren't as big as they would be for Owl Crate… I'm also not spending as much money.
Join Life's Library Bookclub Today!
---
Do you have any suggestions or are there things you think I've missed? Leave a comment below. Or if you want more posts like this? Sign up today and never miss a post!
---