Most of us get the winter blues at some point. Readers and non-readers alike will struggle with being cooped up inside by the cold (or the pandemic). So if you're looking for something to cheer up yourself or your bookworm friend, then these book gifts are guaranteed to satisfy.
Just like my post on Book Subscription Boxes these are all gifts I've either received myself or bought for others. I can speak to the quality of all of these gifts. I've also tried to pick gifts where the delivery cost is low so you don't have to pay an arm and a leg.
I've also tried to pick things that are either practical or activities to help pass the winter months.
So which book gifts are great value for money?
Indigo Book Boxes
I've spoke of them before, but I love Indigo Book Boxes. The biggest problem with them honestly, is they don't come around often enough and when they sell out, they're gone. Each book box contains a hardcover book and some premium items from Indigo such as journals, jewelry, or stickers. It's always high quality and since Indigo is such a big chain, the shipping is free.
The cons are just that it doesn't come around very often and that Indigo does a really bad job of telling us when they're available. First come, first serve!
Get Your Adam Silvera Book Box from Indigo
Canadian Classics Box Set
I really don't know how long this will be available or as discounted as it is. Currently, it's over 80% off and less than $10 at Indigo. It includes some childhood classics that were really important to me when I was growing up including The Underground Railroad by Barbara Smucker and Awake and Dreaming by Kit Pearson. Even if you're not a fan of these books yourselves, it's hard to go wrong for the price.
If you have a young reader in your life too, it's perfect for them. Again, it's first come, first serve while supplies last! I would check the sales that Indigo has as well though, they often discount book boxes to sell off the last of them. This means you can get premium book sets for amazing prices if you can get your timing right.
Get Your Canadian Classics Box Set from Indigo
Wax Seal Stamp Kit
Generally people who are into books are also giant stationary nerds and I am no exception. I don't write letters that much, but I love the idea of using the wax seal to close the envelope. I might start using it to leave little notes for my roommate or something.
Even if I don't have anything to write, just using the wax is soothing and I like making the seals a lot. The kit is simple to use and comes with everything you need to make your letters fancy. I've even used them for wrapping book gifts for other people.
Get Your Wax Seal Stamp Kit from Amazon
Calligraphy Pen Set
Speaking of making your letters fancy, this book gift is amazing for people who want to learn calligraphy. I can't speak to how it is for people who are already good at calligraphy, but this is a good beginner set. If you use this plus watch some Youtube videos, you're bound to feel like you're in the middle of Jane Eyre.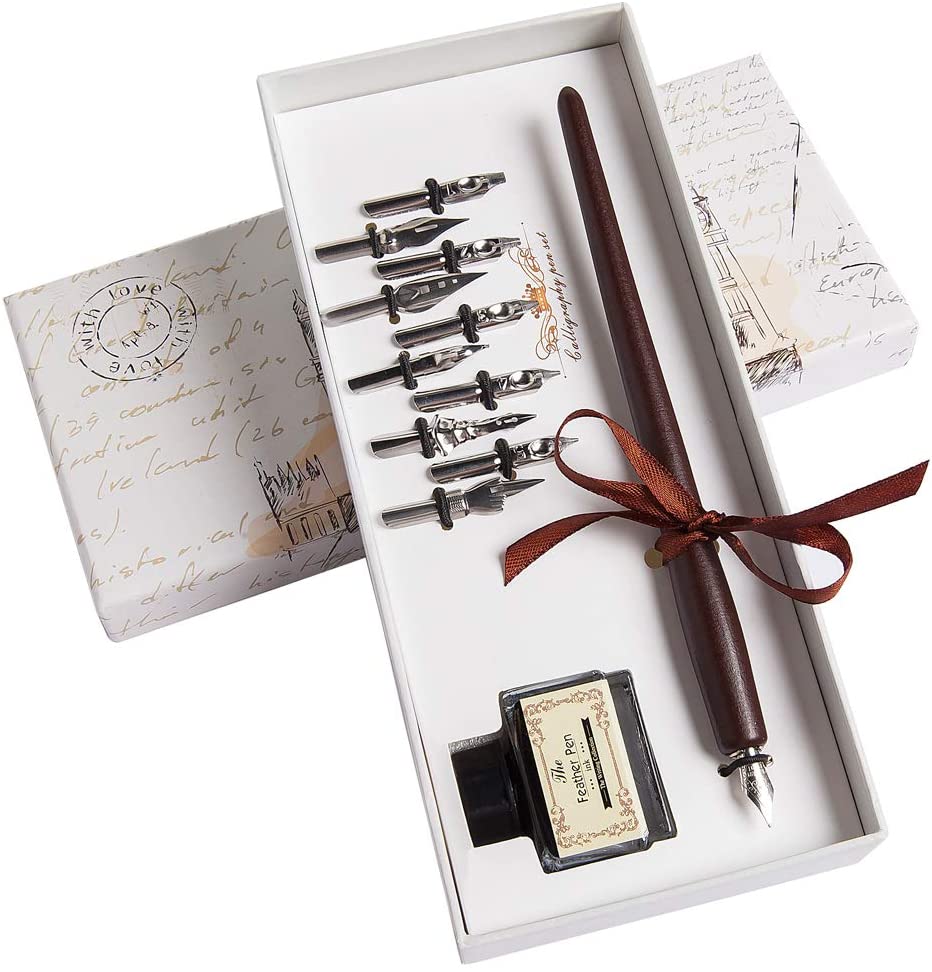 Or, if you want a happier story, Pride and Prejudice. Who knows? You might just find the need to pen an important letter to your Mister Darcy. And if that's the case, having the right tools is of the utmost importance.
Get Your Calligraphy Pen Set from Amazon
Book Sleeves
One of the best book gifts I've ever received was a Book sleeve. I have three of them now and while they're not getting a ton of use in the pandemic, they were essential while I was commuting to work. Book sleeves are basically fabric casings which allow you to protect your books when you put them in your bag. I cannot even begin to explain how good of a gift these are.
The Etsy store, IDoGiveAnF, has some beautiful designs on there. Combine that with free shipping and it's an irresistible combination.
Get Your Beautiful Book Sleeves and Fabric Bookmarks from Etsy
Crocheted Bookmark
I'm one of those people who has far too many bookmarks for their own good. I should honestly start giving some away. But before I do that, I had to get this beautiful book gift for a friend. There are multiple flower designs that you can choose from and all of them are hand made.
It's quickly become my absolute favourite bookmark to use. They're more durable than the regular paper ones and they're eye-catching too.
Get Your Gorgeous Crocheted Bookmark from Etsy
---
Do you have any suggestions or are there things you think I've missed? Leave a comment below. Or if you want more posts like this? Sign up today and never miss a post!
---