Updated April 8th, 2021
Okay, everyone. I have a confession to make. There are a few book subscription boxes that I've tried and loved to death. …But I'm not always able to justify the price of these boxes. Some of them are great. Some are even in my best value book subscription boxes list, but there are others that I have to just give up on. Like a child looking longingly at toys through a store window, I have to admit that though beautiful, they're too rich for my blood.
Book subscription boxes feel like Christmas every month. I can't begin to explain the rush that I get from them. Maybe it's the secret nature of the box, maybe it's because I just love getting little gifts. Either way, when I'm subscribed to a book subscription box, I look forward to it every month.
So which book subscription boxes would I have monthly subscriptions to no matter what if I had the money?
3. The Wordy Traveller: The Most Well Rounded Book Subscription Box
This is one of the few non-fiction book boxes I've seen that's worth its salt and it will pick three books every three months based on a geographic region. The extras that you get along with the book box are themed on that region including some professional photographs and usually some kind of physical gift. The first time I received a box, it was with a glass cup from Turkey.
Unlike the other boxes on this list, the theme of the box isn't about being bookish or quirky. It's all about the region, it's about losing yourself in these books and expanding your horizons without needing to leave your home.
This box would have been down at number one, but the price is a little higher when you break it down than Owl Crate or Blind Date with Obvious State. I love this box. I love it so much, but the price might be a deal breaker for some people, especially when you add in the conversion rates and the shipping.
See the current Wordy Traveler journey here!
2. Blind Date with Obvious State: The Poetry Book Subscription Box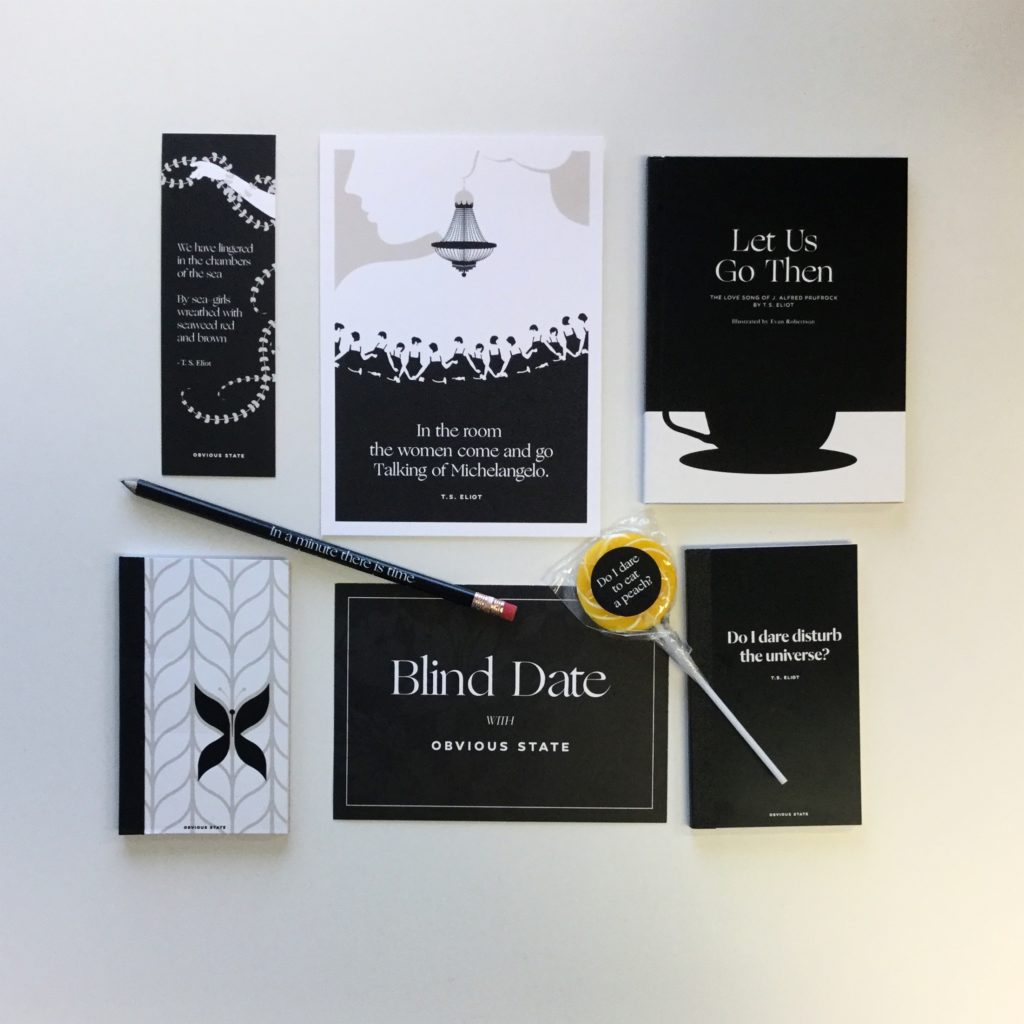 Obvious State is a purveyor of absolutely gorgeous bookish goods. They have these amazing stylized quotes, mugs, and tote bags in their shop. So when the chance came to order a Blind Date with them, I couldn't click buy fast enough. Blind Date is what it sounds like. They send you a package every month or so with beautifully stylized bookish goods like lip balm, candles, candy, notebooks. On top of that you get a small poetry book that has a visual interpretation of a classic poem each month for $15.
As it says on their website, it's "dinner and drinks on a coffee and cake budget. Not bad."
This is the first and only poetry box I've seen around and I love it. I don't read enough poetry and this box is helping me get back in there. The shipping isn't too bad. It ends up being $25 or so, but I've gotten pretty candles and a book and a lot of things, so I never feel like I'm not getting my money's worth.
Go on a Blind Date with Obvious State here!
1. Owl Crate: The YA Book Subscription Box
I've gushed about Owl Crate before and if you check Instagram you'll see posts everywhere, but its reputation is well-deserved. Every box comes with a hardcover book, a pin, and an array of bookish goods. I've gotten so many amazing things including a wax seal, scarves, wall hangings, jewellery, planters, and the list goes on. They're the reason that I have a book planner and why I got back into YA in a big way.
I love their crates and they're the highlight of my month, hands down, every time. You can see how excited people are to get them and even when the merchandise isn't entirely up my alley, it's still lovely.
On top of that, you get a cute little newsletter. To add even more value, the books usually have a signed book plate and a note from the author. It is incredible value for money.
Even if you don't subscribe to Owl Crate regularly, it's still worth it to join their newsletter as sometimes they'll have limited edition crates for big upcoming releases (like the one pictured above). They sell out quick, so keep an eye out for them.
Is there a subscription box that you love that you think I missed? Let me know in the comments down below.
---
Do you have any suggestions or are there things you think I've missed? Leave a comment below. Or if you want more posts like this? Sign up today and never miss a post!
---