Updated July 27, 2020.
Just a heads up that as of August 30, 2018 PageHabit and its parent company were shut down and dissolved. This is being left up for posterity. Please note that the box mentioned below is not available for purchase.
I have a book subscription box addiction and I think I need help. Send help, they are draining me dry! I had already sworn off buying any more book boxes for awhile when I found out about PageHabit. I had already subscribed to three different book boxes within a month and I was starting to reach the end of my disposable income in a big bad way, but PageHabit… ugh, how could you say no?
Getting a handwritten letter from an author is special enough, but some genius decided to add in sticky notes that the author has written so you get little annotations. It's like that show from way back when where they would play music videos and have facts/trivia pop up during them.
I could not give them my money fast enough, even if the shipping to Canada always kills me with these boxes.
Getting the Box
The first ever PageHabit box arrived yesterday and I've spent my night just going through all of it and reading the first few pages of my book.
The swag isn't as important to me as the book, but since I know that's going to be on people's mind, let's go through this unboxing step by step.
Inside the Box
The packaging was minimal, but that worked for me. I don't need anything fancy. The first thing that I saw when I opened the box was a placard explaining the donation portion of the box. The donation was going toward literacy and Zambia and PageHabit was kind enough to give some information about Zambia to explain what they were doing with the money.
Underneath was a copy of a handwritten letter from this month's author to us. It was a sweet note and I dug into my box, eagerly wanting to see all the goodies.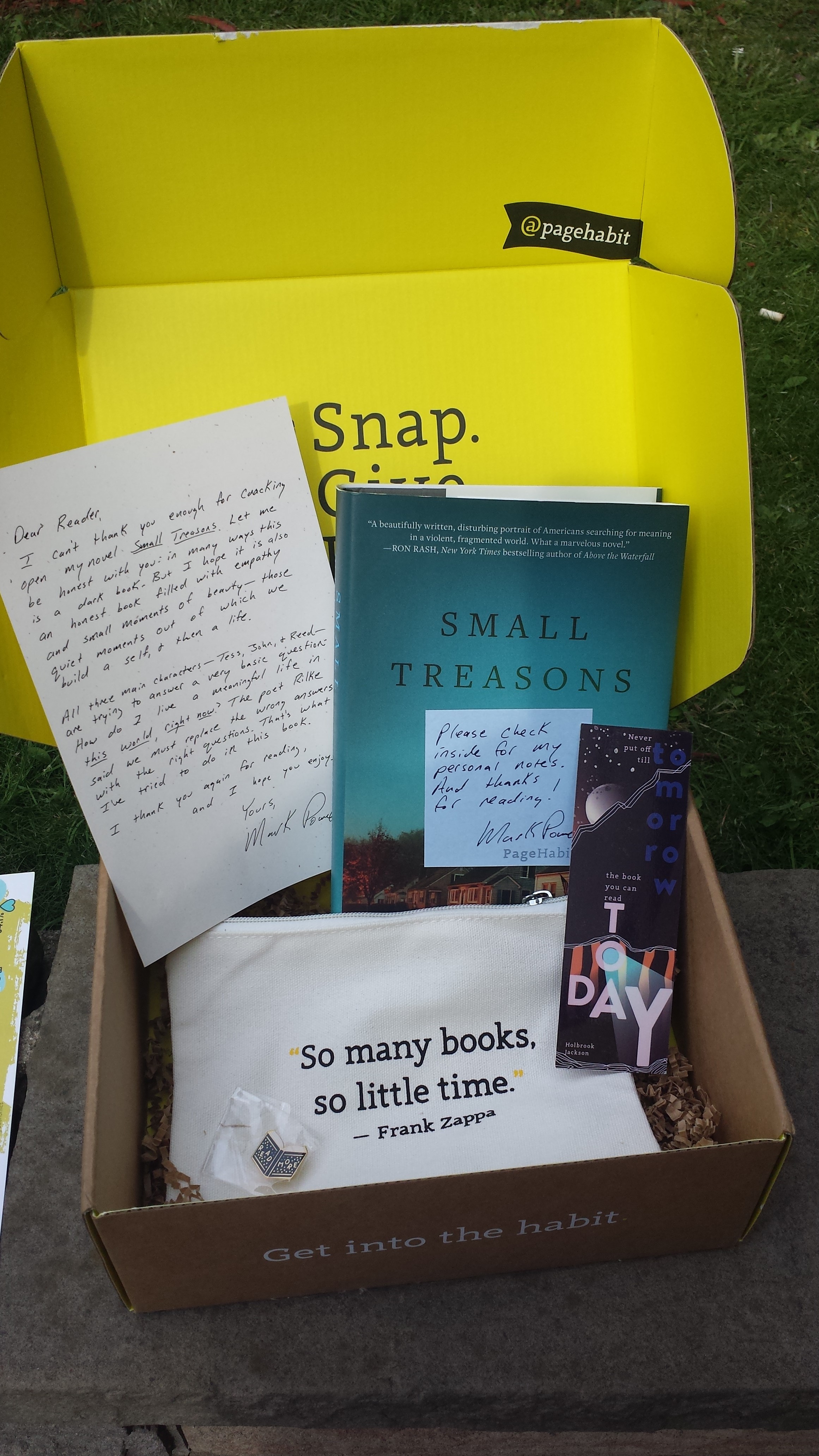 So what was in the June box?:
– A hardcover copy of Small Treasons by Mark Powell
– 10 or so sticky note annotations written by the author
– A letter written by the author.
– A shiny little bookmark.
– A… pencil case (?) that has a book quote on it.
– An adorable little pin that says "read more"
Extra Goodies
On top of that, the PageHabit Facebook group is incredibly active and I've already made some great friends there. Even if you don't end up getting the box, I'd recommend joining the Facebook group for fellow book lovers.
You can get the monthly boxes in Literary Fiction, Romance, Young Adult Fiction, Mystery, Fantasy, or Historical Fiction. Basically whatever you're looking for, they're bound to have it for you with the possible exception of horror. They'll be expanding as time goes on, so I'm super excited to see what happens next with PageHabit!
Did you get a box? Let me know what you think of it below.
---
Do you have any suggestions or are there things you think I've missed? Leave a comment below. Or if you want more posts like this? Sign up today and never miss a post!
---